"Chances favor only the prepared minds" said  Louis Pastuer
            Back in 2015, SZABIST organised a first ever professionally successful career fair in Hyderabad. A two days event , held on 25th & 26th of April at BBQ Tonight & Pearl Banquet, respectively. The first day covered several informative sessions by professionals from different multinational organizations & well known speakers. The second day was the actual career fair which had been organized to conduct on spot interviews. Resultantly, the potential candidates got internship & job calls from different companies. The organizing team of students & the employers made it a successful event by their hard work & dedication. It was a successful & memorable career fair In Hyderabad just as the name reflects.
            This November, SZABIST is again providing a platform for job seekers & final year students where they can reshape their future; SZABIST Career Fair 2016. Fasten yourselves, as this time more prospective multinationals such as Coca-Cola & traditionally leading companies like Trade Key , Haleeb Foods are going to sort the talent of Hyderabad. Orix Leasing Pakistan Limited, a Japan based leasing company completing its 25 years of success is joining hands with team Career Fair. Zong – A promising network of Pakistan & a face of tomorrow is looking for the real talent to take the company to the next level. PTCL – A local, long distance, private sector, based in Pakistan, a partner with IBM that provides cloud services across Pakistan. Soneri Bank, one of the fastest midsize growing bank in Pakistan,  Meezan Bank – Pakistan's 1st ever successful Islamic Bank carrying crystal clear financial activities, Pak-Qatar Takaful a renowned Shariah based insurance company, JS Global – a faster trading & leading investment bank in the Middle East, Bank Al-Habib on completion of silver jubilee in 2016 is offering positions for graduate trainee officers. Arino – A project of Fateh Group which is a total men shoe company with its largest delivery in Pakistan. Unique – D.S Motors, the 4th highest selling motorcycle company in Pakistan. Software companies working globally are joining hands which includes, CodeX – a silicon valley based software house which trains & targets the youth for excellent command on technology having programming skills. Smartwares – A Geneva based company, which has a turnover for more than 10 millions, promises to solve problems of ICT via consultant & engineering expertise by developing softwares for various businesses is now seeking talent from Hyderabad to work on a larger scale. Base Camp Data Solutions is an ongoing & growing smart system-design developer company of Pakistan. Last but not the least Verge Systems, based on SaaS, software as a Service has offices in UAE, US, Canada, Australia & Pakistan is a software development & web designing company that has an edge on all system development activities. Hence, is looking for the youth of Hyderabad. TCS Express & Logistics, a company that  delivers to 225 countries globally, Oxford University Press – a department of Oxford University which excels in research & academic publishments worldwide is looking forward to see if Hyderabad has got the similar talent to be praised. NGOs such as Research & Development Foundation of Pakistan (RDF) is a project to overcome poverty & increase economic activity in rural areas by bringing awareness. Sindh Education Foundation (SEF) – A project to revitalize & re-establish the quality of education in Sindh are seeking empowerment from Hyderabad. DevCon – An association for rural development & a platform founded by young professionals in 1997 which is now a sectorial organization in Sindh.
A total of 22 companies are adjoining on one platform to recruit talent & reshape the tomorrow.
            Hence, SZABIST Career Fair team with a habit of 'do more & deliver better', invites candidates from all over Hyderabad to come & 'discover themselves'. Join hands with the companies, get interviewed & become the future of tomorrow. The event will be held on 26th of November 2016 from 10:00 am to 4:00 pm at Pearl Banquet. The entry passes cost is Rs.250/= & are available with all the organizing team members of this event which is class BBA-8, Event Management students of SZABIST Hyderabad. Professional dressing will be highly appreciated. Explore employment options, connect with prospective employers & achieve your career goals with "SZABIST Career Fair 2016."
#SZABISTcareerfair2016
---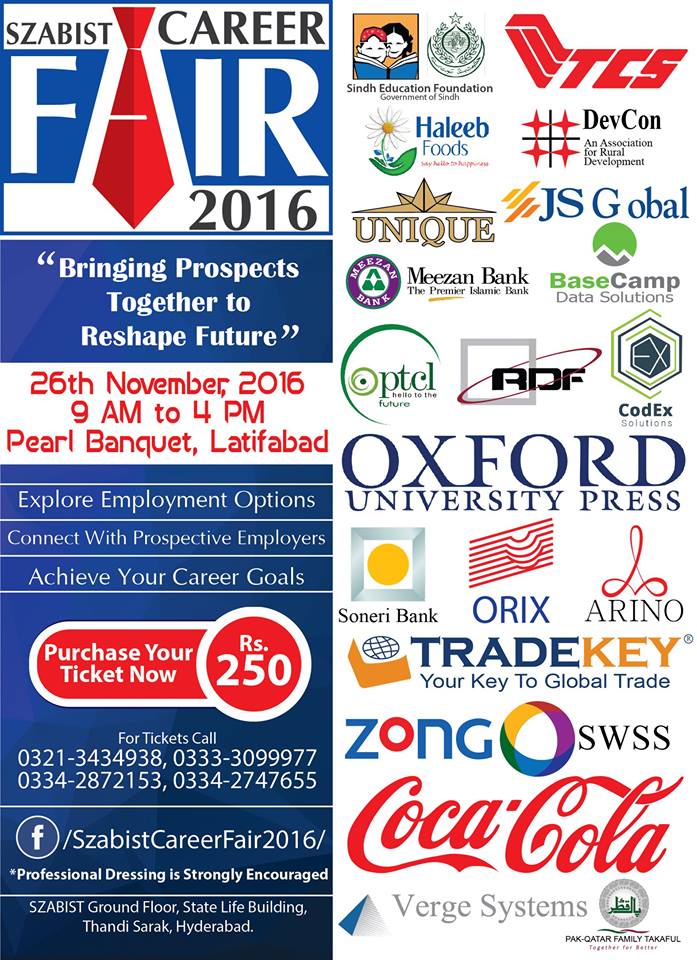 ---