The term "breast cancer" refers to a malignant tumor that has developed from cells in the breast.
WHAT IS A MALIGNANT TUMOR?
A tumor that invades surrounding tissues, is usually capable of producing metastases, may recur after attempted removal & is likely to cause death unless adequately treated.
INTRODUCTION TO BREAST CANCER
Breast cancer is an uncontrolled growth of breast cells. To better understand breast cancer, it helps to understand how any cancer can develop.
Cancer occurs as a result of mutations or abnormal changes in the genes responsible for regulating the growth of cells & keeping them healthy. The genes are in each cell's nucleus, which acts as the "control room" of each cell. Normally the cells in our bodies replace themselves through an orderly process of cell growth: healthy new cells take over as old ones die out. But over time, mutations can "turn on" certain genes & "turn off" others in a cell. That changed cell gains the ability to keep dividing without control or order, producing more cells just like it and forming a tumor.
Usually breast cancer either begins in the cells of the lobules, which are the milk-producing glands or the ducts, the passages that drain milk from the lobules to the nipple. Less commonly, breast cancer can begin in the stromal tissues, which include the fatty & fibrous connective tissues of the breast.
INCIDENCE RATE
Approximately 1 in every 9 Pakistani women is likely to suffer from breast cancer. This is one of the highest incidence rates in Asia. Pakistani women show an incidence rate of 50/100,000. The pattern of rapid premenopause increases in breast cancer is also seen in Pakistan, but breast cancer risk plateaus after the age of 45 years.
---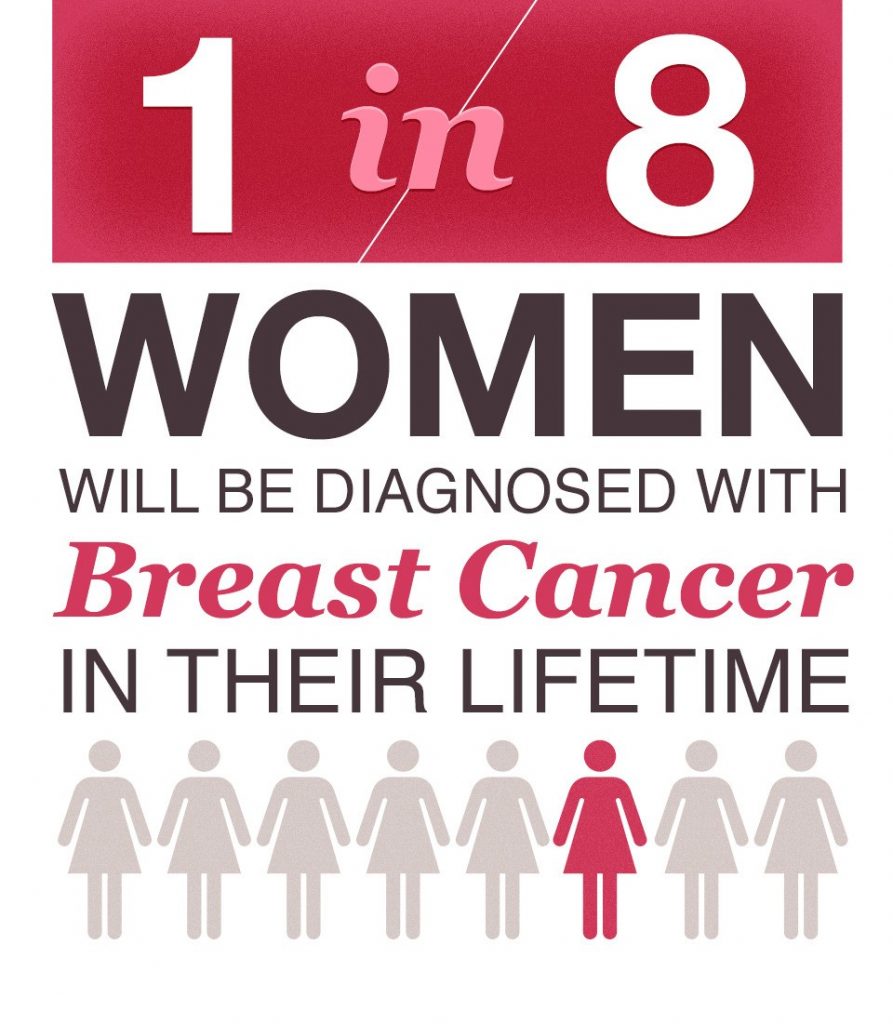 ---
SIGN & SYMPTOMS

The changes appears in the breasts:
Any unexplained change in the size or shape of the breast
Dimpling anywhere on the breast
Unexplained swelling of the breast (especially if on one side only)
Unexplained shrinkage of the breast (especially if on one side only)
Recent asymmetry of the breasts (Although it is common for women to have one breast that is slightly larger than the other, if the onset of asymmetry is recent, it should be checked)
Nipple that is turned slightly inward or inverted
Skin of the breast, areola or nipple that becomes scaly, red, or swollen or may have ridges or pitting resembling the skin of an orange
An existing lump that gets bigger
Vaginal pain
Unintentional weight loss
Enlarged lymph nodes in the armpit
Too many visible veins on the breast
Any Nipple Discharge—Particularly Clear Discharge Or Bloody Discharge
It is also important to note that a milky discharge that is present when a woman is not breastfeeding should be checked by her doctor, although it is not linked with breast cancer.
---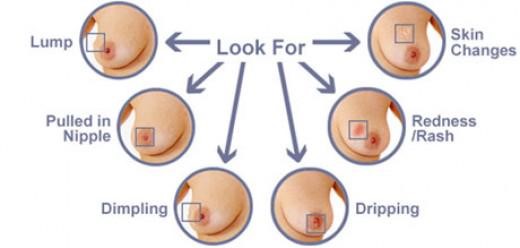 ---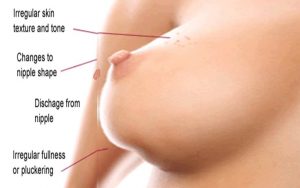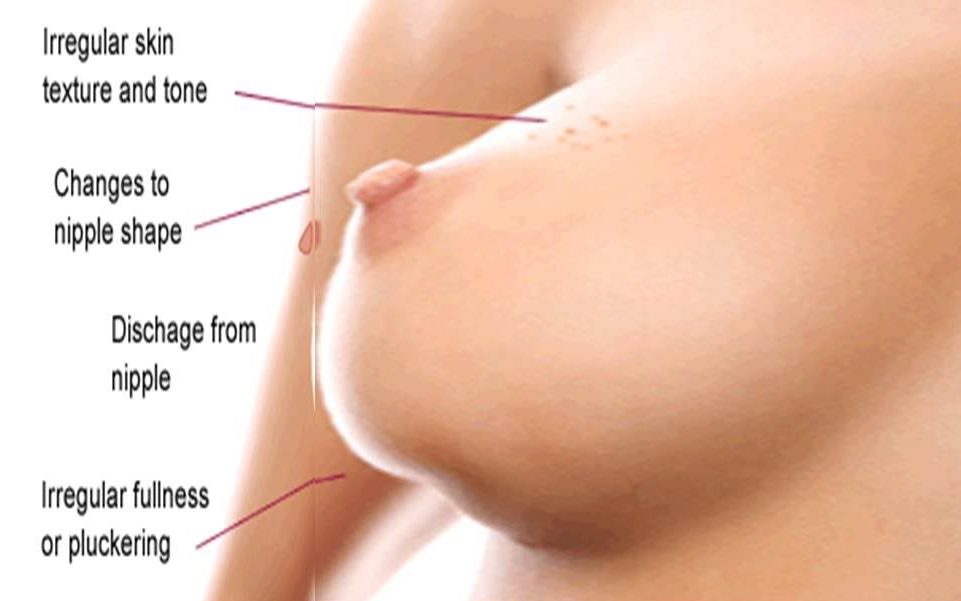 ---
RISK FACTORS FOR BREAST CANCER
These risk factors are divided into 2 forms:
Modifiable Factors (which can be changed)
Non-Modifiable Factors (which cannot be changed)
NON-MODIFIABLE RISK FACTORS:
GENDER: Simply being a woman is the main risk factor for developing breast cancer. Men can develop breast cancer, but it's about 100 times more common among women than men.
AGING: Your risk of developing breast cancer goes up as you get older. About 1 out of 8 invasive breast cancers are found in women younger than 45, while about 2 of 3 invasive breast cancers are found in women age 55 or older.
INHERITING CERTAIN GENES: About 5% to 10% of breast cancer cases are thought to be hereditary, meaning that they are caused by gene defects (called mutations) passed on from a parent.
BRCA1 & BRCA2 GENE CHANGES: The most common cause of hereditary breast cancer.
FAMILY HISTORY OF BREAST CANCER: It is higher among women whose close blood relatives have this disease. Having a first-degree relative (mother, sister, or daughter) with breast cancer about doubles a woman's risk. Having 2 first-degree relatives increases her risk about 3-fold. Although the exact risk is not known, women with a family history of breast cancer in a father or brother also have an increased risk of breast cancer. Overall, less than 15% of women with breast cancer have a family member with this disease. This means that most (85%) women who get breast cancer do not have a family history of this disease.
PERSONAL HISTORY OF BREAST CANCER: A woman with cancer in one breast has an increased risk of developing a new cancer. This risk is even higher if breast cancer was diagnosed at a younger age.
RACE & ETHNICITY: Overall, white women are slightly more likely to develop breast cancer than are African. In women under 45 years of age, however, breast cancer is more common in African-American women. Asian & Native American women have a lower risk of developing & dying from breast cancer.
DENSE BREAST TISSUES: Breasts are made up of fatty tissue, fibrous tissue & glandular tissue. A woman is said to have dense breasts on a mammogram (radiological test to scan density of breast tissue) when she has more glandular & fibrous tissue & less fatty tissue. Women with dense breasts on a mammogram have a risk of breast cancer that is 1.2 to 2 times that of women with average breast density. A number of factors can affect breast density, such as age, menopausal status, the use of certain drugs (including menopausal hormone therapy), pregnancy & genetics.
STARTING MENSTRUATING BEFORE AGE 12: Women who have had more menstrual cycles (periods) because they started menstruating early (before age 12) have a slightly higher risk of breast cancer. The increase in risk may be due to a longer lifetime exposure to the hormones estrogen & progesterone.
GOING THROUGH MENOPAUSE AFTER THE AGE OF 55: Women who have had more menstrual cycles because they went through menopause later (after age 55) have a slightly higher risk of breast cancer. The increase in risk may be due to a longer lifetime exposure to the hormones estrogen & progesterone.
MODIFIABLE RISK FACTORS
DRINKING ALCOHOL: Drinking alcohol is clearly linked to an increased risk of breast cancer.
BEING OVERWEIGHT OR OBESE: Being overweight or obese after menopause increases breast cancer risk.
PHYSICAL ACTIVITY: Evidence is growing that physical activity in the form of exercise reduces breast cancer risk.
HAVING CHILDREN: Women who have not had children or who had their first child after age 30 have a slightly higher breast cancer risk overall.
BIRTH CONTROL: The use of oral contraceptives. Studies have found that women using oral contraceptives (birth control pills) have a slightly greater risk of breast cancer than women who have never used them.
DEPOT-MEDROXPROGESTERON ACETATE (DMPA; DEPO-PROVERA): This is an injectable form of progesterone that is given once every 3 months as birth control. A few studies have looked at the effect of DMPA on breast cancer risk.
HORMONE THERAPY AFTER MENOPAUSE: Hormone therapy with estrogen (often combined with progesterone) has been used for many years to help relieve symptoms of menopause & to help prevent osteoporosis (thinning of the bones). This treatment goes by many names, such as post-menopausal hormone therapy (PHT), hormone replacement therapy (HRT) & menopausal hormone therapy (MHT).
COMBINED HORMONE THERAPY (HT): Use of combined hormone therapy increases the risk of getting breast cancer. It may also increase the chances of dying from breast cancer.
TOBACCO SMOKE: In recent years, some studies have found that long-term heavy smoking might be linked to a higher risk of breast cancer.
NIGHT WORK: Some researchers think the effect may be due to changes in levels of melatonin, a hormone whose production is affected by the body's exposure to light.
SCREENING TEST
Screening is looking for cancer before a person has any symptoms.
The average guidelines for a women to screen herself are as under:
Women ages 40 to 44: should have the choice to start annual breast cancer screening with mammograms if they wish to do so.
Women age 45 to 54: should get mammograms every year.
Women age 55 & older: should switch to mammograms every 2 years, or have the choice to continue yearly screening.
Physical examination
This is one of the most easy & rapid test a women can perform by herself. The method is to gently rub one hand against the breast in search of any abnormal hardness, lump, tenderness(pain on touch), abnormal nipple dislocation, abnormal shape & size of nipple & breast, any discharge if seen.
Imaging procedures
Procedures that make pictures of areas inside the body.
Mammograms
MRI
CT-Scan
Ultrasound
X-ray
PET-Scan.
Biopsy
Blood Cell Counts
Blood Chemistries
Blood Marker Tests
Bone Scans
Breast Cancer Index Test
Digital Tomosynthesis
Ductal Lavage
EndoPredict Test
FISH Test (Fluorescence In Situ Hybridization)
IHC Tests (ImmunoHistoChemistry)
Inform HER2 Dual ISH Test
MammoPrint Test
Mammostrat Test
MarginProbe
Molecular Breast Imaging
Oncotype DX Test
Prosignia Breast Cancer Prognostic Gene Signature Assay
SPoT-Light HER2 CISH Test
Thermography
Tumor Genomic Tests
Urokinase Plasminogen Activator Protein Inhibitor Test
PREVENTION
The most important point to prevent the breast cancer is to decrease the risk factors are already mentioned above.
Self physical examination by the females herself.
Early detection & prompt diagnosis of disease.
Use of Antioxidant containing food such as juicy fruits & green vegetables.
Maintaining personal hygiene.
Breastfeed if possible.
COMMON MYTHS ABOUT BREAST CANCER OCCURRENCE
Only women with a family history of breast cancer are at risk.
Exposing a tumor to air during surgery causes cancer to spread.
Breast implants can raise your cancer risk.
All women have a 1-in-8 chance of getting breast cancer.
Wearing antiperspirant increases your risk of getting breast cancer.
Small-breasted women have less chance of getting breast cancer.
You can't get breast cancer after a mastectomy.
Caffeine can causes breast cancer.
Wearing an under-wire bra increases your risk of getting breast cancer.
TREATMENT PLANS
Your breast cancer treatment plan is based on both medical and personal choices. It is tailored to:
The specific kind of breast cancer (the biology of the tumor)
The stage of the breast cancer
Other medical issues
Personal preferences
Because of the differences between tumors the your treatment plan may differ from person to person. Each treatment option has risks & benefits to consider along with your own values & lifestyle.
Whereas, breast cancer treatment can be divided into two parts; Local & Systemic.
1. LOCAL THERAPY: Local therapy removes the cancer from a limited (local) area, such as the breast, chest wall and lymph nodes in the underarm area (axillary nodes). It also helps to ensure the cancer does not come back (recur) to that area. Local therapy includes surgery & radiation therapy to the breast area.
2. SYSTEMIC THERAPY (ADJUVANT THERAPY): Systemic therapy aims to get rid of cancer cells that may have spread from the breast to other parts of the body. This usually means drug therapy, which travels throughout the body to get rid of cancer cells that may have spread. Systemic therapy includes chemotherapy, hormone therapy & targeted therapy. Because systemic therapy is in addition to (an adjunct to) breast surgery, these treatments are often called adjuvant therapy.
Young women WITH BREAST CANCER
Young women with breast cancer have special concerns about early menopause & loss of fertility due to treatment.
SURGICAL THERAPY
Mastectomy (removal of breast) is the effective procedure done to get rid of breast cancer. This depends on the stage of cancer present, it might include the excision of lymph nodes of armpit or a complete armpit removal.
---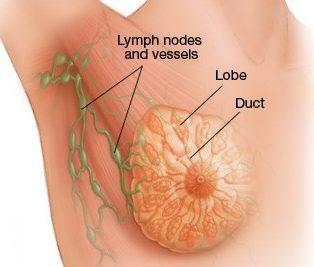 ---
P.S. There is no shame in self-examination. It is good to know your body. Prevention is always better than cure! 




#ByeByeOctober #BreastCancerAwarenessMonth #TheWordsCraft