"Her soul was too deep to explore by those who always swam in the shallow end."
            It is said that women are the most beautiful creatures of this world. And these beautiful creatures are often seen beautifying themselves even more. But what if they are seen modifying themselves in unconventional ways?
This reminded me of a sentence I read somewhere; "We are all stories in the end!"
            The only difference is, some of us remain unheard, unseen & unknown for life. While few of us decide to be the story's hero & end up being known for the attempt of surviving through the odds!
            The Vampire Lady is one such lady who decided to be her own hero. Maria Jose Cristerna Mendez is a Mexican lady who is famous for the most tattoos & body modifications. She holds the Guinness World Record for female with the most tattoos & body modifications. She has 49 body modifications which almost covers more than 90% of her body with tattoos, ink, piercings & titanium horns & fangs implants. Maria is a 36 years old, former lawyer, mother of 4 children, belonging from a Christian Catholic family, currently a professional video jockey, also a lecturer in women's support group, awareness raiser, speaker & helper against domestic violence.
---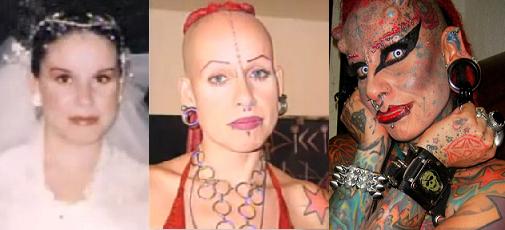 ---
            The question arises, why would a woman modify or recreate herself like that? There must be something that must be going on in her mind, something that made her to be like that. People know her for her terrifying looks that are associated with a devil or vampire. But few people know what made her like that… An abusive & drug addict life partner!
            Maria lived for 10 years with an abusive & drug addicted husband until she found the courage to take their 4 children & leave him. The 10 years or living with a mentally & physically abusing person changed her internally & her perspective for self & the world. Dwelling in a society which is known for strong gang culture & different sorts of abuse on women, she spent a long time period with a spouse who was abusive & violent, felt helpless but finally build courage to help herself & others going through the same situation.  According to her, the piercing & tattoos is a way of expressing herself which symbolizes the 10 years of suffering & a different way of recovering from the trauma of abuse.
             In spite of her looks, even today she says that she is a traditional woman like the other who look after her family. Currently she is married to another man namely David who has accepted her the way she is. They have been living together for 10 years together now. He has also helped Maria in opening & managing the tattoo parlour & a boutique offering Goth clothing & accessories. Maria is now spending a normal life just like other woman. She cooks, takes care of her family & does whatever she likes.
            Women belonging from any race, society or culture is directly or indirectly affected by their husband's behaviour. This is not only seen in the Asian culture where women are considered to be more dependent on their spouse, but almost in every race, religion, culture, etc. Marriage is a sacred relation which bonds two different people in beautiful threads of respect, love, care & trust. If it is mishandled things fall apart, either of the partner or both maybe adversely effected by it. It was a man who changed her perspective for her own self, life & the world around her. It is a man who is supporting her in recovering from the trauma, apart from her own will power. It takes a real man to realize that he made a mistake but an even better one to try to make things right.  But most importantly for a woman her entire life can change. The society ends up judging & pointing out the woman which makes it even harder for a woman to move on. This is just one story that is bought forward, but there millions of real life stories where women have been living in abusive relationships. But there are few people who choose to be their own hero. But the fact is that every tragic incident or even a moment of suffering leaves a huge impact on the person. This is more prominently seen in case of women. Maria Jose Christine is just one example. There are many unheard & unseen examples that we do not know about. And we should be respecting the people who fight for themselves in spite of all odds without judging them, especially in case of women.
"I like stories where women save themselves!"