We all are familiar of a famous makeup brand known as "Huda Beauty" created by a famous makeup artist "Huda Kattan." The brand is quiet expensive. For those who love playing with makeup & colours & those who crave brands can not afford it. Currently, "The Dupe Trend" has changed the game.
Why buy expensive brands when high quality dupes are available?!
I was offered & sent Huda Beauty Dupes in my mail by a facebook page "She Means Beauty & Business." Tbh I was surprised to see the vault & the product's quality. I swatched the liquid lipsticks on my arm. Moreover, I wore the liquid lipsticks turn by turn to test for the claims of 24 hour wear time to check how much water proof & kiss proof they are. Surprisingly, my take on dupes totally changed as I tried this.
Product Name: Huda Beauty Liquid Matte Lipsticks Vault of 12
CLAIMS
Matte finish
Maintains lips' hydration
Light weight
Transfer-free finish
Long-wearing
Transfer-proof
MY TAKE ON THIS PRODUCT
The vault is extremely attractive & eye catching. As shown in the photos on internet, it is black in colour with product branding on the top.
"She Means Beauty & Business" placed a note inside the vault which said "Dear Ayesha, We hope you like the product. Looking forward to a healthy
relation & a positive review. Keep shopping with us! Team, She Means Business! XO" The best thing about opening the vault was seeing this note waiting to be read, which was placed over the colourful liquid lipsticks.
The liquid lipstick container is made of frosted arcylic container with a doe foot applicator which was neither too stiff nor too soft. The doe foot applicator picks up moderate amount of product from the lipstick container.
When it comes to the liquid lipstick claims most of them are true, surprisingly even with these dupes. They have a matte finish. They are long lasting, water proof, transfer proof, light weight. There was something more that I noticed. These liquid lipsticks are scented. They have a sweet & pleasant scent. Whereas, I did not find these liquid lipsticks to be very hydrating as I already have dry lips which makes matte lipstick application alone, without any top coat or clear gloss uncomfortable for me. Since I face this issue with every other matte lipstick I use from whatever brand, therefore I am not counting on this issue much. Other than this I love the versatility of the shades. Ranging from nudes, pinks, purples, reds & browns.
I applied all the 12 shades on my arm for swatching purpose. Here are the swatches along with the shade name mentioned accordingly:
---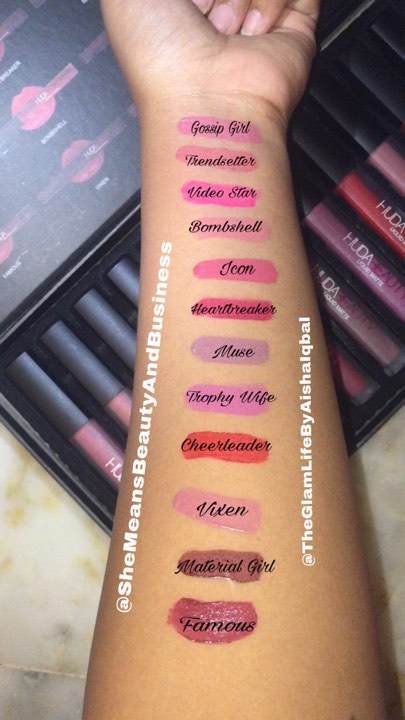 ---
The swatch marks lasted for straight 48 hours. I used soap, cleansers, loofah & everything except makeup removers to check how long they stay. The colours definitely became dull as I used loofah but they were bright enough.
Something I heard about dupes was that they are not same as the original. They are sticky & smell like chemical. They taste bitter. They cause sores & infections. I had the same things in my mind & I was reluctant to try out dupes. But this experience has totally changed my mind & views about dupes. I would love to buy & review dupes. I totally agree with the statement "She Means Beauty & Business" mention regarding their product saying they are "Highest Quality Dupes at Reasonable Prices." I totally agree with this statement. Moreover,  I would recommend people to buy dupes from She Means Beauty & Business.
You can also get upto 10% discount on your purchases by using the discount code "THEGLAMLIFEBYAISHAIQBAL" on your purchases from She Means Beauty & Business.
P.S. The video is sponsored by SHE MEANS BEAUTY & BUSINESS.