I was watching a cricket match in the ground. But today I saw something new. On the corner of the ground I saw 2 kids sitting with a box. I love noticing & observing different things. Noticing these 2 kids from a distance for a while, I decided to go to them.
I went there & asked: "Who are you? I have not seen any of you here, before."
They said: "We are brothers & this is our little shop. We used to keep it in front of the gate of our house but there are not enough sale that is why we thought to come here because of tournament & for the sake of increasing our sales.
I asked: "How much you have sold here?"
They said: "Not a single rupee yet. No one is coming to buy anything from us."
I asked: "Do you study?"
The young brother said: "Yes! I study in grade 2."
The elder brother said: "I do not study, because I keep holding this (little shop) in front of the school."
I asked: "What does your father do? How many brothers you are?
The younger one replied: "My father does nothing. He can not even move due to paralysis. We are 4 bothers. 2 of my brothers are younger than me & my elder brothers is here with me, he also works on different shops for the sake of bread winning."
I asked: "How much you sell on daily basis & how much do you earn from it?"
He replied: "300 to 500 daily & that earns 50 to 70 rupees."
I asked: "Do you save money?"
They said: "Yes, sometimes. Not daily. Hardly 10 to 15 rupees for emergency use."
            After all this conversation, I told to them that I wanted to capture their photo along with their little shop. But they turned their faces the other way.
---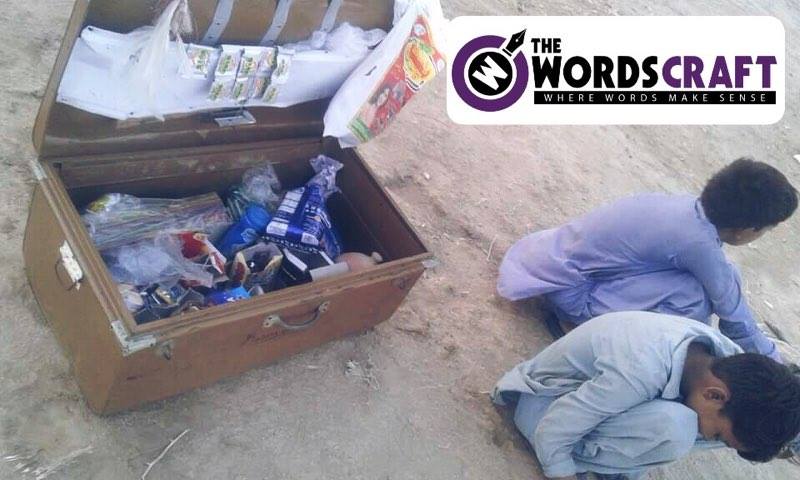 ---
On the way to my home, I was thinking about them. Their sad eyes & gloomy faces could not get off my mind. I was wondering that how good, responsible & hardworking they are at this age. They work hard to support their family & to fulfill their needs at an age when they should be playing & studying just like other children. While we are so insensitive & careless about such people around us. There were so many people in that ground, but no one even bothered to look at those 2 kids who were waiting for someone to come & buy something from them. We are so much blessed & busy in our lives that we do not even bother to look at people who literally fight hard for little things in life that we are already blessed with. We should be thankful to God for everything we have. We need to take out some time for people who are underprivileged & share their problems & help them. Because happiness increases by giving.
"Remember that the happiest people are not those getting more, but those giving more!"
– H. Jackson Brown Jr.